Your Book Deserves the Best!
From manuscript to finished product, we'll make sure your non-fiction book "baby" gets what it needs to grow up and live happily ever after.
FREE STRATEGY SESSION
YOU'VE WORKED TOO HARD
TO GET STUCK AT THE END
The publishing world can be confusing
A published book is like a jigsaw puzzle--so many pieces, and they need to fit together perfectly! Having a guide on your side helps you avoid rookie mistakes that keep your book in publishing purgatory. 
The options are 
overwhelming
From choosing an editor to designing a book cover, there are a plethora of publishing options that can make you feel overwhelmed and stressed. Have confidence in the process with vetted vendors that are great to work with and damn good at what they do. 
It's easy to get derailed by bad advice
Everyone thinks they are an expert in publishing, even if they've never published a book! Get quality advice from industry experts that is tailor-made for your book, your audience, and your goals.
GET THE SUPPORT YOU NEED TO TAKE
YOUR BOOK TO THE WORLD

Keep control of the process with our vetted network of editors, designers, and marketing experts
Publish with confidence knowing your book has all the right pieces in place to go to market
Feel pride in your achievement with a high-quality finished product that can match any traditionally published book
"Thanks to Susan's marketing guidance, I gained instant credibility as an author and additional gravitas as a business expert. Both have delivered tremendous value to my business and to clients and organizations that otherwise would not have found me."

Earl Bell, author of Winning in Baseball and Business
I am amazed at how you could cut right to the chase and give me such good advice in such a short period. I took away 5 ideas that I can start putting into action. Your deep knowledge of marketing to niches and the new digital world was very valuable and I will definitely recommend you to any of my colleagues with the same struggles.
-John Geraci
Author of Art of the Nudge
"Susan is one of the brilliant marketing minds. She is full of ideas to help you take your book marketing to the next level."
-Jag Randhawa
Author of The Bright Idea Box
I just have to share how awesome Susan Friedmann is! After 2 years of being in this industry and being in the process of attracting clarity around my niche, in under 45 minutes, Susan was able to uncover what I truly wanted my niche to be. She then worked with me to define it even more and even helped come up with the right words so that it felt good to me, and was specific to my target market. Susan, Thank you so much! Your advice, wisdom and niche clarification process helped me tremendously! I truly appreciate your support and guidance!
-Judy Garey
Author of High Vibe Academy
My business marketing plan was a mess. I couldn't decide who my niche market was so I just marketed to everyone. Susan gave me clarity and direction. Her recommendations are like a marketing compass. I finally know what direction I'm going. Thank you for your help. You're amazing!!!! I'm looking forward to working with you again.
-Debbie Langley
Kyani Distributor
SIMPLE STEPS TO GETTING PUBLISHED
1. Schedule a free consultation
We'll discuss your book, your desired audience, and your goals for getting published. What do you want your book to do for you?
2. Get matched with the right experts
Publishing a book works best with the right team on your side. From editors to designers and marketing experts, we'll make sure you have the support you need to get your book out into the world.
3. Hold your finished book in your hands
After all your hard work, you can take pride in your "baby" finally making its debut! Take a moment to feel pride in what you've achieved.
SUSAN FRIEDMANN,CSP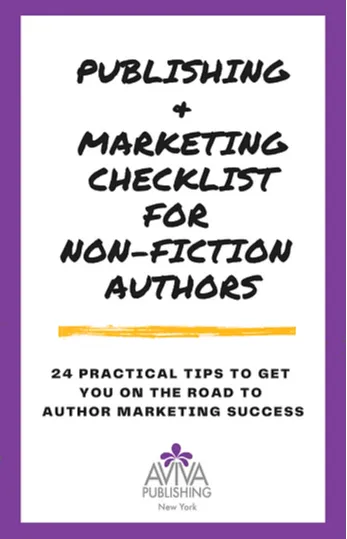 Thinking of publishing a book?
Subscribe to download your free copy of our
Publishing & Marketing Checklist for Non-Fiction Authors